October is breast cancer awareness month and we'd like to invite you to participate in several fundraisers we are sponsoring.  As some of you may know, Jim's wife and our former billing coordinator Nora Floyd has been battling breast cancer since her diagnosis in April of 2018.  She is a fighter and has been doing well with everything so far and we want to continue to support her!
We're sponsoring a team for the Palmetto Health Breast Center Walk for Life and Famously Hot Pink Half Marathon, 5k + 10k runs and we'd love for you to join us at the walk/run or donate to the cause.  Follow the link below for more information on this!
http://events.palmettohealthfoundation.org/site/TR?pg=team&fr_id=1140&team_id=10256
We've also created a special "pink edition" Vertex T-shirt (see picture below) that is co-branded with our training partners (Athlete's Arena) and will be donating all proceeds from the sales of these to the upcoming Walk for Life fundraiser!  We are selling the T shirts for $20 and they are available for pre-order and purchasing in person at our clinic.  Please let us know by replying to this email or giving us a call if you would like to purchase one!
Thank you to everyone for your support and we hope you have a great day!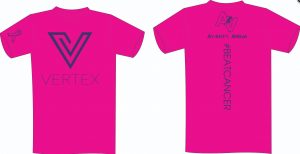 http://ecbiz218.inmotionhosting.com/~wwwver6/wp-content/uploads/2017/02/logo-horiz.png
0
0
Brandon Vaughn
http://ecbiz218.inmotionhosting.com/~wwwver6/wp-content/uploads/2017/02/logo-horiz.png
Brandon Vaughn
2018-09-18 15:35:57
2018-09-18 15:37:30
Breast Cancer Fundraisers